November 23, 2012 — 10:35
---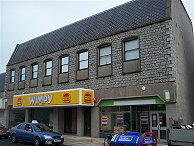 Rowe Bowl building, Trevithick Road, Camborne, Development opportunity for high street shops and offices.
The property comprises a dated former Tesco Supermarket arranged on 3 floors in part currently accommodating Argos. It comprises various parts to include the former Rowe Bowl Unit, former Wimpy Restaurant and former Job Centre Offices…..View the agents details here.
November 22, 2012 — 14:43
---
We are proud to announce the launch of our new corporate image and logo.

The new logo reflects on the background and history of the Rowe Group of Companies, by using the colours from previous logos, especially in the "building graphics" that reflects the wide diversity of property within the portfolio.
The Rowe Group brand is designed to represent an aggregate of all of the existing group of companies;
Rowe Estates UK Limited
Rowe & Co Cornwall (Properties) Limited
Rowe Property Developments
St Piran Homes Limited
Shepherds Wharf (Plymouth) Ltd